Bill Cheswick's Home Page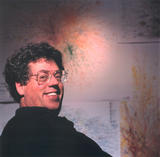 I am interested in visualization, user interfaces, security and security usability, typography, tinkering, and science, medicine, and technology in general.
Almost anything in software can be implemented, sold, and even used given enough determination. There is nothing a mere scientist can say that will stand against the flood of a hundred million dollars. But there is one quality that cannot be purchased in this way—and that is reliability. The price of reliability is the pursuit of the utmost simplicity. It is a price which the very rich find most hard to pay.—C.A.R.Hoare
I love living in the future! (But I wish the software was better.)
Biographia
CV, includes patents and stuff; Publications; Talks; Bio and short bio; A nice movie about me; If you'd like me to speak at your conference, speaker information; My blog and (RSS feed).
Current Projects

The Second Edition is available in several languages. Details available at http://www.wilyhacker.com/ It is more fun to have written than to write.
Hal Burch and I ran the Internet mapping project while at Bell Labs and Lumeta Corp. The thumbnail reveals more information, data, and a gallery of some interesting visualizations of the Internet.

These Internet maps have appeared in dozens of books, magazines, posters, and papers worldwide. Our technology remains at Lumeta, so you should contact Lumeta if you wish to use the images. I am always willing to discuss them with interested parties.

Recently, AT&T put up Internet maps at the Washington airports for the 2009 inauguration. These versions are not available outside of AT&T.

I am still interested in the visualization challenges these kinds of data pose, but am not working on it much.
Miscellany
Misc


This lock is your assurance of security.
Brian Clapper is a boofhead. Arden is a boofhead as well.